The morning of Day 4 of the Engineering Academic Software workshop opened with the mighty James Howison talking about the outputs expected from our work this week; these include a report of the meeting, the manifesto mentioned in my previous blog post, a draft document offering guidance for tenure committees on evaluating software contributions, a draft workplan for writing a proposal to establish an award for software contributions, a table of contents for a research software engineering handbook, and a sustainability debt use case, these last four from breakout session work.
The two talks on this morning might well be billed the Battle of Cool Places to Work. First up was Cecilia Aragon from the University of Washington on eScience Institute Initiatives. This work grew out of the realization that people were drowning in data, leading to the Moore/Sloan Data Science Environment, a $37.8M initiative at UCB, NYU, and UW.

The eScience Institute has a multi-pronged approach set up around science theme areas with bridges to data science methodologies; this sets up a cycle wherein research needs generate new methodologies, which enable more science. Two new roles were established, Data Science Fellows and Data Scientists. They also set up education and training, including workshops and bootcamps for data science, such as Software Carpentry and Astro Hack Week and a seminar series. They offer a new MS in data science that is interdisciplinary, involving six departments, and innovative, with a social science component that includes a human-centered viewpoints and ethics. This MS program is designed for working professionals, provides a rigorous technical program in statistics and computer science, and has evening courses and allows full or part time attendance.

They have set up guidelines for reproducibility and offer help to people to improve this aspect of their work; eScience institute data scientists and others participate in a "drop-in" office hours program. They foster working relations with their working space and culture; people sit side-by-side to work on a problem. They see sharing a physical space as essential for data science and growing research software collaborations.
Aragon discussed the integration of ethnography (a qualitative field-based technique originally from anthropology that enables study of underlying patterns and themes) and evaluation into a wide range of the data science environment. Ethnography research tries to answer questions such as Who does data science?, How are they networked?, and What forms of social interaction do they use? Ethnographers at UW work with members of the community to interpret observations and to provide feedback on what works and what doesn't. She reports they have had a lot of  success with "applied ethnography".
She also discussed their data science incubator program, which was the precursor to the Data Science for Social Good program. They looked for high-impact data-intensive science projects that would benefit from quarter-long sprints of expertise, and had projects outlive the incubator, getting advances in both the science and the software and generating publishable

results for both. One project was to try to solve problem of homelessness in Seattle. It involved bringing data about homelessness into more manageable form and analyzing it to see what worked, conducting analysis to identify predictors of permanent housing, and looking for successful outcomes. Another project, Open Sidewalks, created sidewalk maps for low-mobility citizens to show the curb cuts are.
Aragon discussed the marketing that they do; they talk to a lot of people, and this has helped with engagement. They actively look for ways to build relationships and collaboration.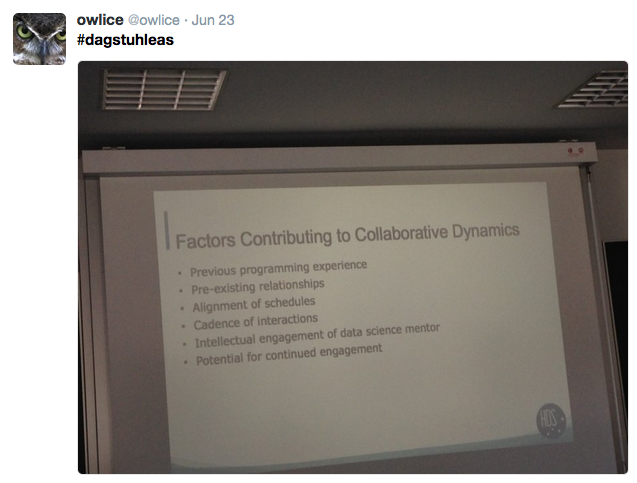 As with all the talks, participants in the room were very engaged, asked questions, and discussed various points. Aragon was asked about career paths and the backgrounds of those in the MS data science program; she said there were forty students in the first cohort and that it was a very heterogenous class, with people from many disciplines. The ethnography work has been discussed in a paper by Tanweer, Fiore, and Aragon. I hope the slides for this talk are released! There was a lot in it that I have not captured here.



The "organization envy," as one person in the room put it, continued with Rob van Nieuwpoort's talk on the Netherlands eScience Center. The Netherlands eScience center receives 5.4M€/year in permanent funding.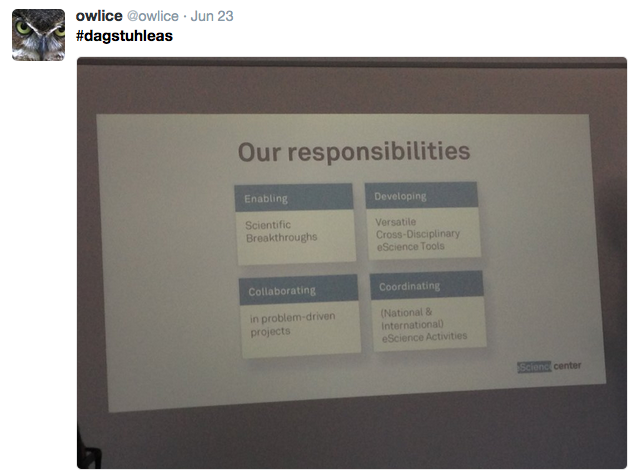 Their responsibilities is demand-driven for all sciences; competition for funding and services is within disciplines, not between disciplines. They fund path-finding projects; this program is similar to UW's incubator projects program. They also receive in-kind funding for eScience research engineers; these are broadly oriented scientists.
The eScience Center recognized early on that they wanted to give research engineers career paths; they offer three different paths: managerial, technical, and research. Asked by Katz whether research engineers have to have academic appointments, van Nieuwpoort stated that some researcher engineers do have academic appointments, but not all do. Vinju asked about educational opportunities, to which the answer was that yes, there are educational opportunities, including workshop and other training; this topic came up again a bit later.
They foster a collaborative rather than a competitive environment, with their engineers fully integrated into the scientific work, and domain scientists recognized for their contributions to software development. Research software engineers are coauthors on science papers to which they have contributed, and when software methods published, domain scientists are recognized with coauthorship.
Returning to education, van Nieuwpoort stated that research software engineers like learn, so the eScience Center keeps them challenged and learning with courses, hackathons, and sprints, and by switching disciplines and technologies.
Through eStep, an eScience technology platform, the eScience Center serves the 99% of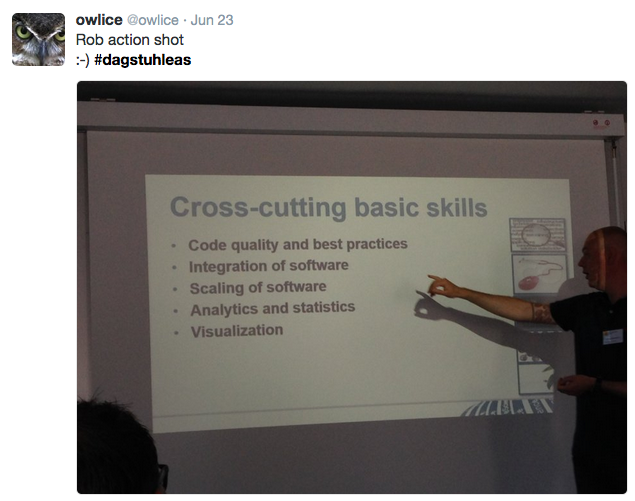 scientists in the Netherlands that aren't at the eScience Center. eSTEP goals are to prevent fragmentation and duplication; to promote exchange and reuse of best practices; to represent NLeSC's expertise and knowledge, and to improve the science state of art with fundamental science research. There are key expertises used in many projects and projects use number of methodologies. NLeSC generalizes software for use in eSTEP; they find or develop state of the art and "best of breed" technologies and software matching their expertise areas that can be made generic and overarching and integrate that technology into eSTEP.
Sustainability is important to them, as is preventing duplication and fragmentation; they seek to build software that is worth sustaining and enforce software engineering best practices

. They use Software Carpentry and Data Carpentry to educate their partners, maintain a knowledge base, and (be still, my heart!) offer a searchable software repository. And more! Slides (PDF)

Of course there was discussion (and funding envy, too); Kevin Crowston pointed out that permanent funding, as Rob's eScience center has, solves a lot of issues. After a short break, we worked together (all of us in the same Google document, which was a little wild) on the Manifesto, sometimes tweeting out comments and questions, up until lunch.



After lunch, we went into breakout sessions; these included sessions on future research questions, the research software engineering handbook, and the Force11 software citation suggestions. After working in these breakouts, we reconvened to share and discuss the progress that was made, breaking only for dinner at 6:00 PM because we had to.
A very busy, exciting, interesting, informative, and productive day!