I've set a goal of bringing the number of entries missing preferred citation information to under 1000, though that might be just beyond possible. When I started this process, there were 1284 entries without a preferred citation; I've examined the software sites and documentation of 150+ of these codes so far and have found explicit citation information for just over 14% of these.
In general, we include a preferred citation in an ASCL record when a code's site or documentation explicitly states what should be cited ("cite [code] with this [ASCL entry/article/DOI/etc.]"). We don't assume a paper listed under "References" or "Articles" is intended to be for citation, though that may be the intent of some authors listing them, as some list these papers because a code is built upon others' work, or these papers include research that used the software.
In some cases, a particular software has no citations to the ASCL record and numerous citations (> 25, let's say) to a code description paper even though the download site or repo does not specify how the software should be cited. Allowing this "apparent established practice" of citation to substitute for an explicit statement and listing the description paper as the preferred citation seems fair to me, and valuable to those who want to do the right thing by citing a software package but don't find guidance for how to do so on the code's site.
We very much prefer that authors provide explicit information on their preferred citation for their programming work, but where they don't, and where there is an apparent established practice of citation, we will now list that citation method as the preferred citation in the ASCL entry. So far, this inferred information has been added to 15 ASCL entries.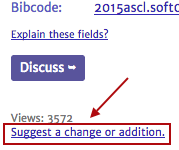 Do you want to discuss different software citation methods before selecting a preferred method? Did I get your software's preferred citation wrong or miss it entirely? If so, please let me know via email or the Suggest a change link at the bottom of your code's ASCL entry.