Curious as to when an entry was first published on the ASCL or was last edited? I get to that in this post, but first, the week that was.
It was interesting, with it being the second week of the Neuroinformatics Assembly, which started with a session on Towards neuroscience-centered selection criteria for data repositories and scientific gateways; a session later in the week, FAIR roadmap workshop, was also pertinent to the ASCL (and the SciCodes consortium). In addition to attending those (and catching bits of other sessions), I also attended the monthly FORCE11 Software Citation Implementation Working Group Codemeta Task Force (whew, that's a mouthful!) meeting on Wednesday. ASCL founder Robert Nemiroff and I met virtually this past week, too, as we do periodically.
But it wasn't all meetings all week. Twenty-three new code entries were created this week, bringing the total for April to 31; a list of them has been scheduled to appear on this blog on Monday Tuesday. A lot of emails were sent out to authors, and a Doodle poll was set up and sent to the ASCL Advisory Committee members, this to determine when to meet this month. Twenty-three existing entries were edited, some through staging the daily random code social media posts through May 10, and others as part of our regular effort to examine every record that hasn't been edited in the past three years (as mentioned in this previous weekly update).
You can easily see when an entry has been curated by clicking the Discuss button in the entry to go to the Forum thread for that code: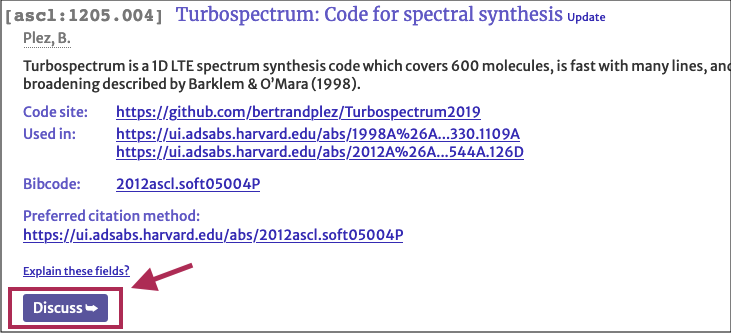 The Forum post for the code shows the creation date of the record (in most cases) at the top of the entry, and the most recent edit date and time at the bottom of the post.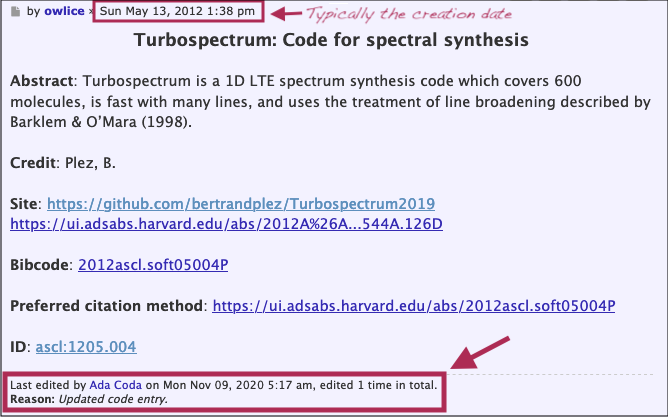 If a code is submitted by an author through our Submissions form, it appears immediately on the ASCL and a forum post is created at the same time. When the entry is sequestered by an editor for processing, the forum post created upon submission is usually deleted and a new one created after the code is assigned an ASCL ID and then published (moved back into production). This — the deletion/recreation of the forum post — doesn't always happen, however, so there are some forum entries that carry the date of submission rather than the date of publication.
You may also notice that some forum posts have a bit of formatting weirdness going on, that the result of an update to the phpbb. Someday, we'll fix that, but as that has no effect on the contents of the forum record, that's definitely way down on the to do list.
Questions? Comments? Please let me know in the comments section below.