This is the fifth in a series of posts on the six-session Software in Astronomy Symposium held on Wednesday and Thursday, April 3-4 at the 2018 EWASS/NAM meeting.
BLOCK 5: Machine Learning & Data Mining
Stephen Serjeant (Open University, UK) moderated the fifth session. This session presented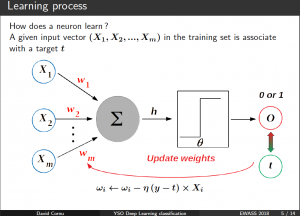 different techniques to, for example, study noise in gravitational wave interferometers, select young stellar object candidates, and directly image exoplanets. David Cornu's (UTINAM, FR) talk, titled Selection of Spitzer YSO candidates using deep learning classifier, included a short tutorial for creating an artificial neural network, showing how a small neuron takes input vectors and updates weights associated with them to understand anti- and co-relation between various factors. Similarly, Carlos Alberto Gomez Gonzalez (U Grenoble Alpes) showed how supervised machine learning can be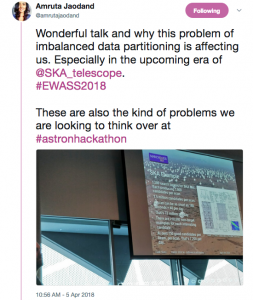 used to detect exoplanets in his presentation Data science for direct imaging of exoplanets. Other talks in this session included Massimiliano Razzano (INFN, IT), Deep learning to study the noise in gravitational wave interferometers, Sebastian Turner (LJMU, UK) presenting on k-means clustering in galaxy feature data, and Emille Ishida (COIN, FR) presenting for Santiago Gonzalez Gaitan, with Spatial inference of astronomical datasets with INLA. Robert Lyon (UManchester, UK) finished this session with a presentation on Imbalanced learning in astronomy, and provides a Jupyter notebook containing a tutorial and examples. The presentations in this session were accessible even to those with no experience in data mining and machine learning, as the techniques used were explained quickly and well before moving on to how they enabled particular research.
Slides from this session
Selection of Spitzer YSO candidates using deep learning classifier by David Cornu (pdf)
Data science for direct imaging of exoplanets by Carlos Alberto Gomez Gonzalez (pdf)
k-means clustering in galaxy feature data by Seb Turner (pdf)
Spatial inference of astronomical datasets with INLA by Emille Ishida/Santiago Gonzalez Gaitan (pdf)